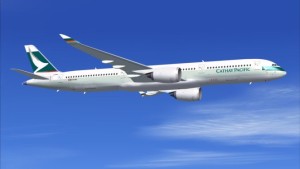 Cathay Pacific announced four additional non-stop flights between San Francisco and Hong Kong, using the new Airbus A350-900, featuring a refreshed Business Class cabin. This will be the airline's first A350 deployed in the USA and second in North America. At the same time, flights to Los Angeles will be reduced from 28 to 21 per week. These changes come on top of previously announced additional services that will operate to Vancouver and Boston from late March.
Cathay Pacific Senior Vice President, Americas, Philippe Lacamp, said, "San Francisco is ready for a third daily Cathay Pacific flight to Hong Kong, and we are delighted to meet this growing customer demand. We are particularly pleased to be able to use this additional service to operate our new, state-of-the-art Airbus A350 aircraft, the first operated by Cathay Pacific in the USA. Since launching our first non-stop service from SFO to Hong Kong over 30 years ago, the San Francisco Bay Area has been a key market in our global network. San Francisco is an ideal market to debut our newest aircraft, the A350. Not only is it the quietest among the aircraft types in its class, but it is also 25% more fuel efficient with a corresponding reduction in emissions. The A350 has also provided an opportunity for Cathay Pacific to prove itself again as a leader in airline eco-innovation. The cabin carpets and passengers' blankets are made from recycled plastic and nylon, including plastic bottles and salvaged fishing nets that are otherwise a hazard for marine life."
Cathay Pacific's new A350-900 have some really good features. Design of the cabin features has been carefully considered to give passengers the best sleeping experience, the best entertainment, and to offer them more control over how they want to use the space. Aircraft offers more space and comfort, a quiet cabin, panoramic windows and LED mood lighting, contributing to a more comfortable and relaxing journey in all cabin classes.
The A350-900 Business Class seats are build on the success of the airline's award-winning long-haul Business Class product. On side of fully-flat bed, new features includes extra stowage space within easy reach and the personal service offered by a "Do Not Disturb" and "Wake-up Call" function in the entertainment system.
Start Date: from Winter 2017
https://www.sunlinetravels.com/wp-content/uploads/2016/04/SLPreLoad-01-300x139.png
0
0
https://www.sunlinetravels.com/wp-content/uploads/2016/04/SLPreLoad-01-300x139.png
2017-03-17 18:14:42
2017-03-17 18:14:42
CATHAY PACIFIC TO ADD FOUR NON-STOP FLIGHTS BETWEEN SAN FRANCISCO AND HONG KONG WHICH WILL INCREASE FREQUENCY TO THREE FLIGHTS EVEYDAY