Countries affected from coronavirus
An ongoing community transmission of a respiratory illness caused by a novel coronavirus (COVID-19) has been reported globally. Coronavirus pandemic 2019-2020 first detected in Wuhan, Hubei, China. Main WHO regions where COVID-19 cases are confirmed include Africa (Algeria, South Africa, Tanzania, Sudan), Americas (United states, Mexico, Canada, Brazil, Argentina), Eastern Mediterranean (Afghanistan, Iran, Iraq, Bahrain, Oman, Kuwait, Pakistan, Qatar, Saudi Arabia, United Arab Emirates), Europe (Denmark, Austria, France, Belgium, Italy, Germany, Portugal, Norway, Russia, Spain, Turkey, United kingdom), South-East Asia (Bangladesh, Bhutan, India, Nepal, Sri Lanka, Thailand) and Western pacific (Australia, Taiwan, China, Hong Kong, Japan, New Zealand, Singapore)   As of 21 March 2020, a total of 275,469 cases were confirmed with 175,806 active cases and 11,402 deaths in 157 countries and territories including five cruise ships.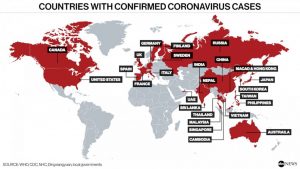 Guidelines for Airlines
Ensuring business continuity at all levels is an essential part of crisis management.  In this particular case the continuity of health-related activities is directly linked with the continuity of transport activities as this has a direct impact on the availability of required medication, protective equipment and medical experts. Civil aviation communities must follow the information and guidelines provided by WHO.
1: Temperature screening
Cabin attendants should be equipped with calibrated non-contact infrared thermometer to detect the passenger who has a fever.
2: Infection Control Measures for Crewmembers
Aircraft operators performing passenger flights to or from the affected areas should be equipped with one or more Universal Precaution Kits.
Cabin attendants should wear surgical mask with low exposure risk and medical protective masks (or N95 masks) with higher epidemic risks (e.g. passengers on board from areas like Hubei province).
Alcohol wet wipes are recommended for hand disinfection. After disposing of the waste, cabin attendants should wash hands with soap and water before disinfection.
Aircraft operators performing passenger flights to or from the affected areas should be equipped with one or more Universal Precaution Kits should be equipped with one or more Universal Precaution Kits.
When contacting with passengers, cabin attendants should wear disposable rubber or nitrile gloves.
Cabin attendants should wear medical protective masks and replace masks with new one when masks are contaminated.
When contacting ill passengers, suspected or confirmed patients, cabin attendants should wear protective goggles and disposable protective clothing.
3: Aircraft cleaning and disinfection
Wet cleaning of aircraft should be done before disinfection which is known as preventive, concurrent and terminal disinfection.
Different types of cleaning (flight deck, cabin, galley, la should be done in accordance to the ground parking time. If time is less, then lavatory and galley should be cleaned as a priority.
Aircraft post-flight preventive disinfection should be done.
     4: Quarantine Management for Crewmembers
In the case of any crewmember having specific symptoms (such as fever, fatigue and dry cough) and exposure event, all crewmembers who have been assigned in the same flights within the last 14 days should be quarantined.
Crewmembers should be quarantined after carriage of confirmed, suspected or asymptomatic patients within the last 14 days.
The quarantined crewmember should be released after 14 days without above symptoms.
https://www.sunlinetravels.com/wp-content/uploads/2016/04/SLPreLoad-01-300x139.png
0
0
SunlineTravel
https://www.sunlinetravels.com/wp-content/uploads/2016/04/SLPreLoad-01-300x139.png
SunlineTravel
2020-03-23 05:50:30
2020-03-23 05:51:27
Coronavirus outbreak, situation update worldwide